An area we proudly serve is Concord, NC, which is about a 40-minute drive from our dealership — not the longest distance, but also not a quick drive around the corner. Thankfully, we have a lot of online tools to use during the shopping process that help shave time off your dealership visit! You can find many of these under "Buying Tools" which is in the Shopping Tools tab in our website navigation bar.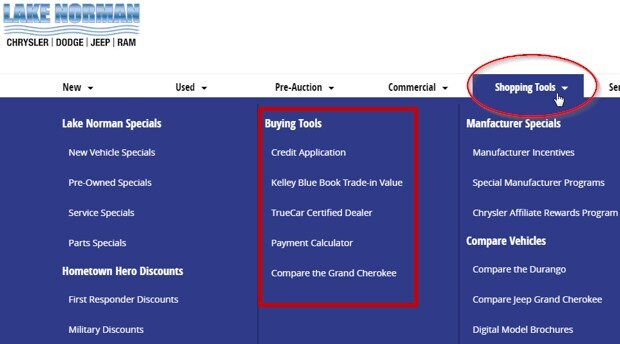 ?
Our Favorite Online Financing Tools
Payment Calculator: after you've shopped our selection of new vehicles from Chrysler, Dodge, Jeep, and Ram or looked at our used vehicles, we encourage you to play around with the Payment Calculator. Simply list the price, down payment, estimated APR rate (you can Google Tier 1, 2, and 3 credit score ranges), and term length. This will provide an estimated monthly payment and give you an idea of what vehicles fit your budget.
The Credit Application: next you'll have to fill out our online credit application. It's quick, secure, and our finance team will reach out to you once we have the numbers. You can fill this out in-person, but this online application saves time. Don't hesitate to reach out to us if you have concerns about your credit history.
Kelley Blue Book Trade-In: financing your next car can get a little easier if you have a good trade-in to put towards the amount. With this app from the reputable KBB you'll be able to get a confident trade-in value.
Vehicle Offers: it's never a bad idea to browse new vehicle offers to see if you can save big. We update these dealership specials each month based on our inventory. If you want to see offers for each model in the brand's lineup then you can view the manufacturer incentives page.
For more information on financing and how using these online tools can save you time before driving in from Concord, give our sales team a call at 888-738-8259.